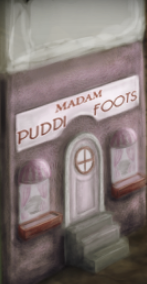 Madam Puddifoot's is a shop located in Hogsmeade. 
Welcome to my little tea shop, child. In addition to our regular drinks, we also serve some small sweets for your enjoyment. Also availible are some trinkets you might want to consider buying for your lovely date. After all, maybe if you shower them with gifts, they'll shower you with kisses.
External Links
Edit
Ad blocker interference detected!
Wikia is a free-to-use site that makes money from advertising. We have a modified experience for viewers using ad blockers

Wikia is not accessible if you've made further modifications. Remove the custom ad blocker rule(s) and the page will load as expected.